 
Tr8x8 Nut
Antibacklash Tr8x8 Nut
Tax included
Worldwide shipping
European warehouse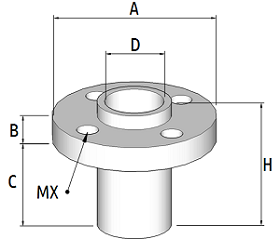 Referencia
Brass[mm]
POM[mm]
A
22
B
3.6
C
10
5 / 19.5 / 24.5
D
7
H
15
10.5 / 25 / 30
MX
M4
M3
The nut for
Tr8x8 threaded bars
does not have any backlash in the direction of the axis. Therefore it is highly recommended for applications that require precision, like movements of the Z-axis in3d printers or small CNC machines.
The brass nut is cheaper, but it is exclusively designed to transmit the movement in the direction of the axis (it cannot withstand loads in other directions) whereas the POM nut prevents from backslash also in the perpendicular direction to the screw, since it is longer.
The code TR8x8 means that the thread is trapezoidal. For
trapezoidal bars with diameter 8 and 8mm pitch
, it means that a complete turn of the axis moves the nut 8 millimeters in the screw direction.
No customer reviews for the moment.